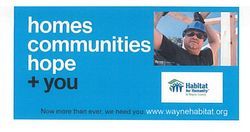 Habitat for Humanity In Wayne County Ohio joins international Homes, Communities, Hope + You campaign to help Wayne County    build back from COVID-19
Wooster Ohio, May 21, 2020 – As the world continues to grapple with the public health crisis and the economic impact of COVID-19, the importance of a place to call home has never been more pronounced.
Since 1986, Habitat for Humanity in Wayne County Ohio has supported families in Wayne County through many adversities. Now, in these very challenging times, Habitat for Humanity in Wayne County stands ready once again to offer a hand up to families in need of safe, decent and affordable homes. Through the Homes, Communities, Hope + You campaign, the organization will raise funds to support more families who need access to the opportunities that an affordable home provides.
The impact of COVID-19 in our rural community is far reaching and although not immediately obvious to many, the pandemic's effect on housing will be significant and last longer than anyone can anticipate.  The negative effects will most certainly be felt by the low-to-moderate income families that our community serves, states Beth Weaver, Executive Director of Habitat for Humanity in Wayne County.
Funds Habitat for Humanity in Wayne County raises through the Homes, Communities, Hope + You campaign will be used specifically to complete the current build that was paused due to the COVID-19 pandemic and to start the new Faith Build 2020 slated to begin in June 2020 which must be completed by December 31, 2020 in order to receive committed matching funds contributed by Thrivent Financial.
The Homes, Communities, Hope + You campaign is a unique opportunity for Habitat organizations all around the world to unite as a global network to galvanize communities and emerge from this crisis stronger together. The campaign will feature Habitat doing what it does best: building security and stability, building back the economy, reconnecting communities, and creating hope.
"Habitat for Humanity is needed now more than ever," said Jonathan Reckford, CEO of Habitat for Humanity International. "The world was already experiencing a housing crisis long before COVID-19. The pandemic has only made our work more urgent. Our neighbors need our help to build back, and we need your support as we work toward a world where everyone has a safe, decent and affordable place to live."
More details about Habitat's Homes, Communities, Hope + You campaign is available by contacting Habitat for Humanity in Wayne County at 330-263-1713, on our website at www.waynehabitat.org or follow us on Facebook.
About Habitat for Humanity in Wayne County Ohio
Habitat for Humanity was established in Wayne County in 1986 and built their first home in Marshallville in 1987.  Since that time, the Wayne County affiliate has built 82 homes in the county with the Habil family home slated to be their 83rd.  Habitat provides affordable homes to families in the county, who might not otherwise be able to purchase a home through the conventional lending process.   The Partner Families purchase their homes from Habitat at zero percent interest, must complete 300 hours of sweat equity in building a home, and successfully complete several home ownership, maintenance and financial courses before taking possession of their own home.
 
Contact(s):
Beth Weaver, Executive Director
Renee Collins, Community Outreach
Habitat for Humanity in Wayne County Ohio
330-263-1713
bweaver@waynehabitat.org or rcollins@waynehabitat.org
www.waynehabitat.org